Walking tractor丨two wheel walk behind tractor
Two wheels walking tractor with attachment is simple equipment that can work with various agricultural machinery. This walk-behind tractor has two wheels, which are good for going anywhere. And diesel engine is the power of the two-wheel walking tractor. Usually, the diesel engine is 15hp or 18hp. Customers can choose the right horsepower according to their needs.
In order to save manpower, the big horsepower diesel engine is usually started through the electric box. You can start the manual tractor easily just with the key. So, with the advantages of being easy to use, cheap, and can be matched with a variety of machines, it is welcomed by many countries.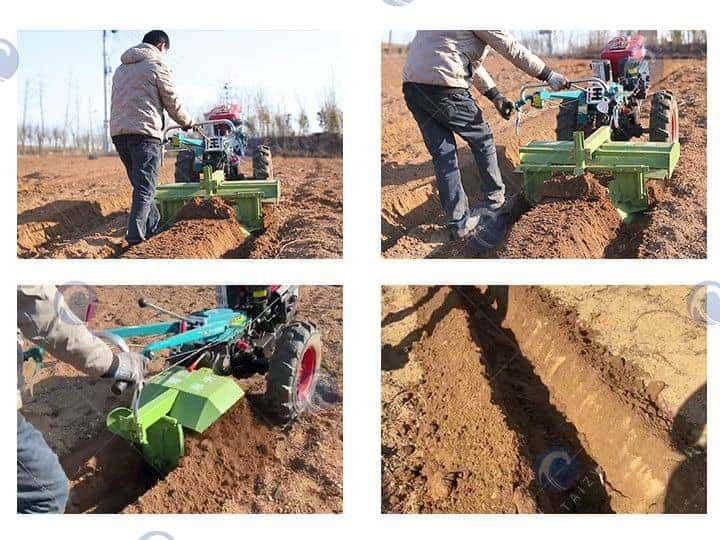 What equipment can work with a walking tractor?
There are rotary tiller, ridger, ditching, corn planter, maize planter, plough, double plow, disc plough, pump, mower, mud wheel, trailer, reaper, potato harvester, peanut harvester, etc that can work with the walking tractor. You can choose any of the above agricultural equipment to match with the manual tractor. And we will also recommend the right power hand tractor for you according to your needs.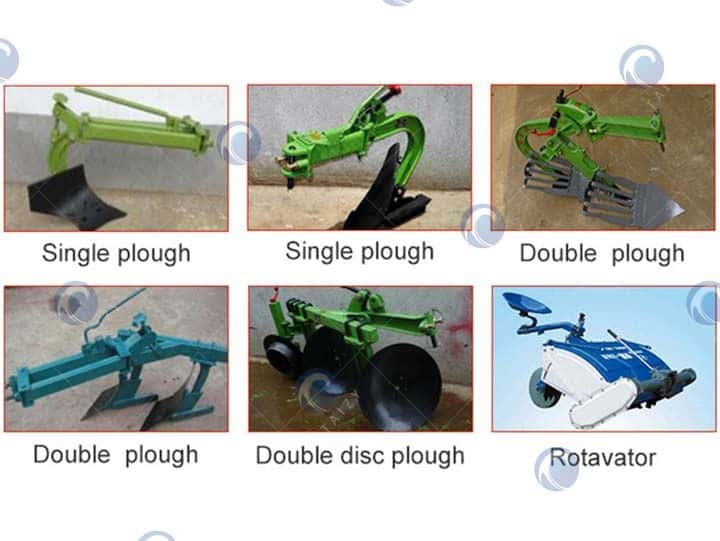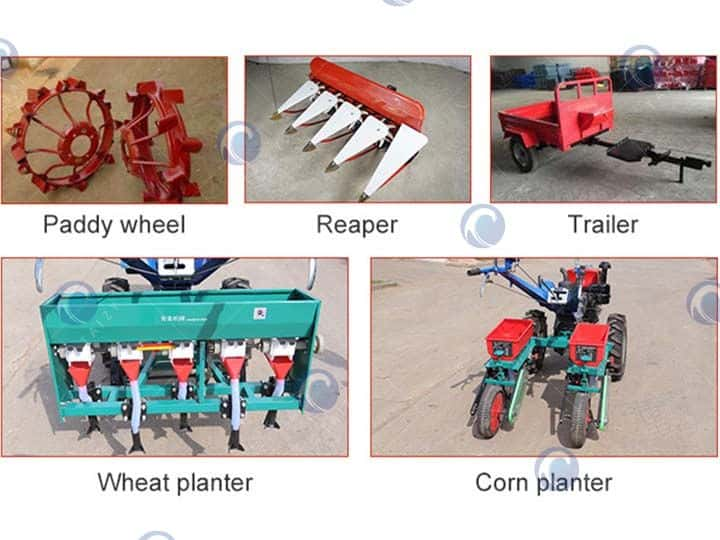 What type of fields can two wheel walking tractor work on?
The applicability of two wheel walking tractors is wide. So, it can work in all types of fields. For example, farming in plains, mountains, hills, paddy fields, dry land, orchards, and vegetable gardens. What's more with the corresponding agricultural machinery, a walking hand tractor can carry out various operations such as plowing, rotary tillage, harvesting, sowing, field playing, and water pumping.
Structure of walk behind tractor
Walk-behind tractors are mainly included frame, diesel engine, transmission system, walking device, steering system, brake, and operating mechanism. Farmhand tractors are also multi-purpose walking machines mainly used for traction and transportation.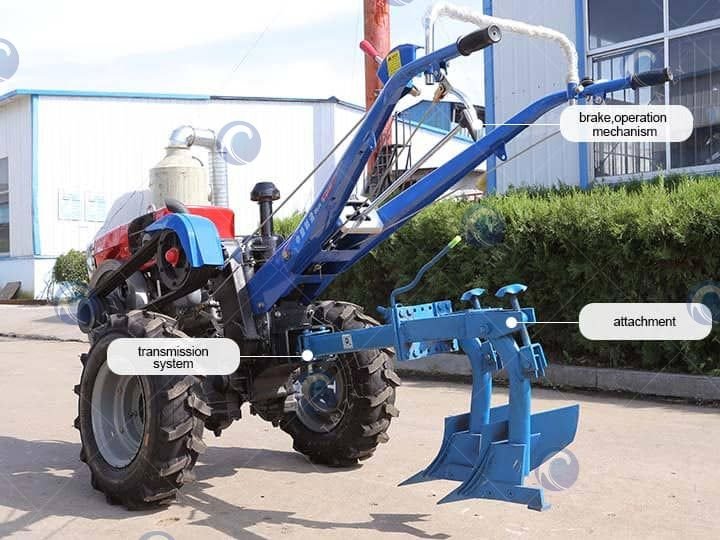 How does a walking tractor with attachments work?
The walking tractor with attachments can travel by the power of the internal combustion engine through the transmission system. The drive wheels that get the drive push the tractor forward by giving the ground a rearward force through the tire tread and tire surface. The driver holds the handrail frame to pull or drive the supporting agricultural implements for operation.
The power is transmitted to the drive train by the V-belt. And the clutch controls the speed of the power. The gearbox is geared.
The operating mechanism is mounted on the handrail to control the throttle, shifting, steering, braking, and power output.
Working video of walking behind tractor
Parameter of walking tractor with plough
| | |
| --- | --- |
| Model | 15HP |
| Engine model | ZS1100 |
| Cooling way | Evaporative/condensing |
| Dimensions | 2680×960×1250mm |
| Min.ground distance | 185mm |
| Wheel base | 580-600mm |
| Weight | 350kg |
| Starting method | hand start / electric start |
Parameter of walking tractor with plough
Advantages of two wheel walk behind tractor
Simple and compact structure, light and flexible operation.This two wheel walk behind tractor machine has a small overall footprint. And it can move flexibly in the field.
Light weight, easy start and low fuel consumption. The starting method can be hand start or electric start. Both two methods are easy.
Good reliability, convenient maintenance, good passability, and strong adaptability.
The walking tractor with attachments can tow a trailer for short transportation. Also manual tractor is equipped with lighting and can be driven at night.