Shipping forage baler wrapper machine to Kenya
Something to celebrate! Another sale of a forage baler wrapper machine to Kenya. We have many Kenyan customers and many of them have purchased the baling and wrapping machines. Our baling and wrapping machines are of good quality using high-quality plates and parts, very durable, and long life!
Forage baler wrapper machine customer in Kenya
This forage baler wrapper machine customer is from Kenya and is a foreign middleman. They will accept orders from the customer and any purchase of equipment to meet the customer's needs. The customer has a freight forwarder in China, so transportation is more convenient.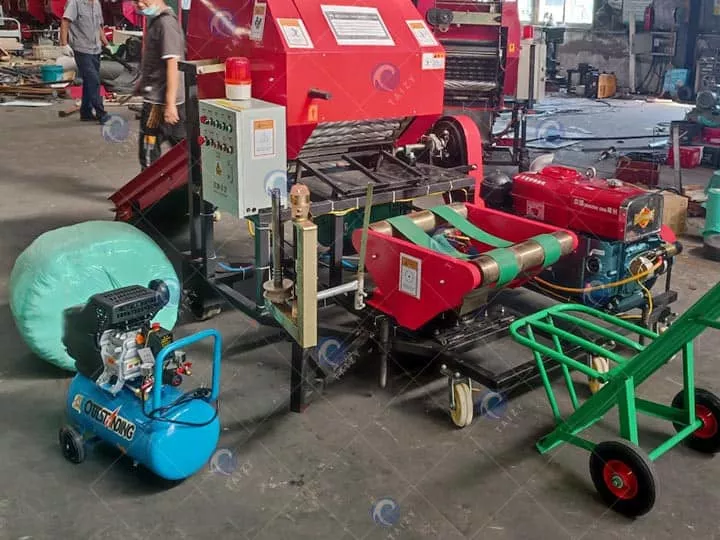 Round silage baler machine cargo list
Besides the forage baler wrapper machine, the customer also purchased an air compressor, cart, rope, and film. Here are the details of the equipment:
Silage Baler with diesel engine
Model:TZ-55-52
Power:Diesel engine:15hp diesel engine
Bale size:Φ550*520mm
Baling speed:60-65 piece/h,5-6t/h
Machine size:2135*1350*1300mm
Machine weight:850kg
Bale weight:65-100kg/bale
Bale density:450-500kg/m³
Rope consumption:2.5kg/t
Wrapping machine power:1-3kw,3 phase
Film wrapping speed:13s for 2-layer film,19s for 3-layer film
Yarn
Length:2500m
Weight:5kg
Around 85 bundles/roll
Film
Length:1800m
Weight:10.4kg
Around 80 bundles/roll for 2 layers. Around 55 bundles/roll for 3 layers.
Connector
Sprocket wheel
Chain
Bearing
Trolley
Air compressor
Round silage baler machine's parameter
Taizy's small round silage baler machine – your best choice!
Patient explanation of the round silage baler equipment. Since the customer did not know enough about the equipment and was not clear about many parts, we explained each part of the equipment to the customer. The customer praised our service.
Rich export experience. We have been engaged in export work for more than ten years and have accumulated rich experience in transportation, helping customers to solve the problem of high transportation costs for export.
Reasonable machine price. Our price is set according to the actual condition of the equipment, and the price is reasonable. We will give customers relevant accessories.
High-quality after-sales service. We provide one year of after-sales service and lifetime free online consulting service. We are committed to helping customers solve various problems related to equipment. We are looking forward to long-term cooperation with our customers!