Grass chopper machine sold to Philippines
Now with the continuous development of agriculture, more and more farmers have appeared. Most of these farmers keep cattle, sheep, horses, pigs, and other animals. Most of these animals eat grass or forage mixed with grass. Therefore, grass has become a must for farmers.
The processing of forage has become one of the daily tasks of farmers. Now due to the development of agricultural technology. Most farmers use grass choppers machines to break the grass into small pieces for animals to eat. There are various types of chaff cutters on the market today. Each farmer can choose a suitable chaff cutter model according to his needs.
What is the function of the grass chopper machine?
A grass chopper machine is a type of forage processing equipment. The machine uses corn straw, wheat straw, straw, and other crops as raw materials. And through guillotine, cutting, and other mechanical crushing, the production of feed processing equipment suitable for livestock breeding cattle, sheep, horses, and deer feed.
We have various models of hay choppers for animal feed to meet the needs of different customers. And the shape and output of different models are different. In addition to this, the forage chopper can be adjusted to obtain different lengths of forage. As for the power, the grass cutter can be fitted with electric motors and diesel engines. So, customers can choose the power according to their needs.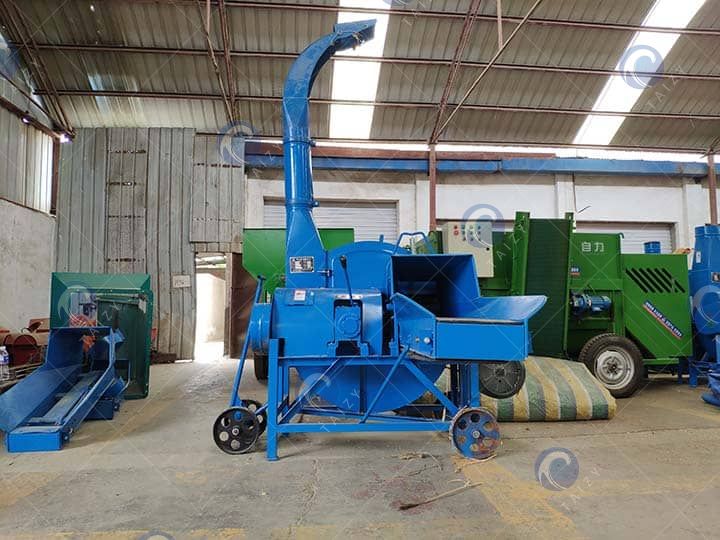 The situation of customers purchasing silage chopper
Our client is from the Philippines. He feeds many cows and sheep by himself. Clients have been using manpower to handle straw and forage to feed cattle and sheep. Now the client wants to expand his breeding scale. So he wants to buy Grass chopper machines to handle the forage. This saves a lot of time, manpower, and money. According to the needs of customers, we recommend two types of silage choppers, 9Z-6.5 and 9Z-1.8. And the customer finalized the purchase of one 9Z-6.5 and two 9Z-1.8 straw cutters. Besides these straw choppers, He also bought a set of corn grits-making machines. Because he wants to add corn grits into the forage to increase the nutrition of the feed.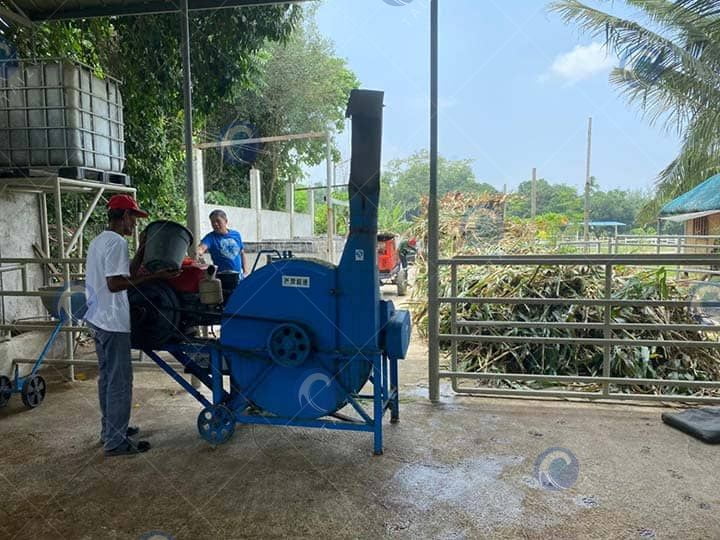 What is the specification of the chaff cutter?
| | | |
| --- | --- | --- |
| Model | 9Z-6.5 | 9Z-1.8 |
| Diesel Engine | 15hp | gasoline engine |
| Weight | 420kg | 100kg |
| Overall Dimension | 2147*1600*2756mm | 800*1010*1900mm |
| Packing Size | 755*1393*1585mm | / |
| Capacity | 6.5t/h | 1800kg/h |
| Speed of Main Shaft | 650r/min | 950r/min |
| Rotor Diameter | 1000mm | 560mm |
| Blades Quantity | 3/4pcs | 6pcs |
| Feeding Mode | Automatic | Manual |
| Chopping Size | 12/18/25/35mm | 5mm,11mm,15mm |
| Feeding Inlet Width | 265mm | 220mm |
specification of the chaff cutter
How dose the grass cutting machine work?
Why buy horse feed cutting machine from us?
1. The length of the horse feed cutting machine's cutting section can be adjusted (3-100mm). And customers can adjust the length according to their own needs.
2. Our grass chaff cutter has good general performance and can cut various crop straws, pastures, etc.
3. This grass chopper machine can crush the rough and hard straw, and cut the stubble flat without sloping stubble.
4. The throwing height is not less than 10 meters and can be adjusted arbitrarily. So, the straw cutting machine is flexible and convenient to use.
5. The structure of the horse feed cutting machine is simple. And it is convenient to adjust and sharpen the knife.
6. The animal feed chaff cutter machine is made of high-quality materials, is wear-resistant, and has a long service life.
7. We will recommend suitable machines for the specific needs of customers. And provide professional answers to customer questions.
8. Throughout the customer's buying process. We provide customers with grass chopper machine pictures, videos, test machines, etc. And real-time tracking of the transportation status of the machine.
Animal feed chaff cutter machine shipment
Every time we pack the machine in wooden cases. This can effectively protect the machine from the collision. Below are pictures of our packaging and shipping for Filipino customers.