Round straw and hay baler sold to the Netherlands
The round straw and hay baler is equipment that can shred and bale straw in the field. The machine is powerful enough to complete the work of crushing, picking, and baling straw at one time. The straw crushing baler can therefore work directly in the field either after harvest or before harvest.
And it is capable of handling a wide variety of straws. In addition to this, the machine must work with a tractor. We have two different models of straw-crushing pick-up balers, round, and square. Among them, the round machine can be bundled with rope and net, and the square machine can only be bundled with rope. Customers can choose according to their needs.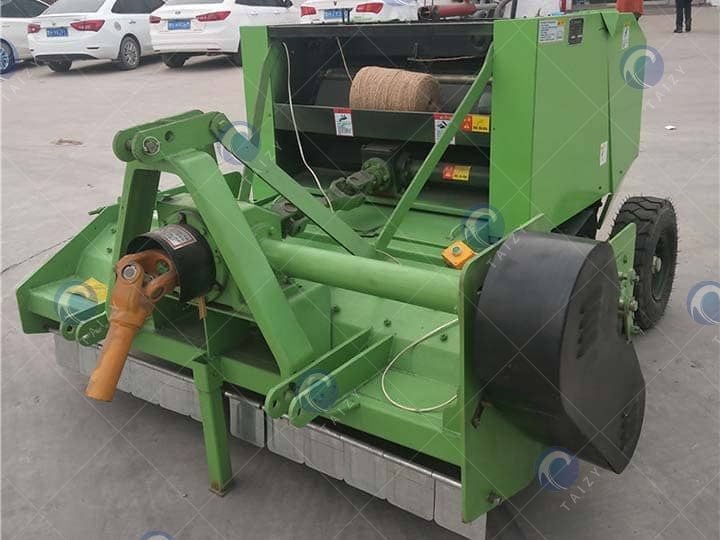 Situation of the customer to purchase a round straw and hay baler
This customer is from the Netherlands and contacted us through the manufacturing net. He has clear buying needs. And know the size of the bales he wants. Our salesmen know that the customer buys it for their own use. In the process of communication, customers are more concerned about the ropes and nets used for bundling. And we recommend rope baling according to the specific situation of the customer.
The whole communication process of customers is long. And he also asked about other types of baler machines in the middle. Finally, after the professional answer from our business, the customer decided to buy a set of round straw and hay balers.
How does the round straw baler work?
Professional specification of automatic straw pick up baler
| | |
| --- | --- |
| Model | ST50*80 |
| Weight | 1320kg |
| Harvest width | 1.65m |
| Power of tractor | More than 60hp |
| Overall Dimension | 2.3*1.95*1.43m |
| Baler Size | Φ500*800mm |
| Baler weight | 30-45kg |
| Capacity | 1.1-1.3acre/h |
automatic straw pick up baler's parameter
Why use a round hay baler machine?
1. Save time and effort, the use of machines can greatly reduce the labor and time spent on straw processing.
2. Be able to use resources reasonably and effectively. The treated straw can be used to make methanol, solid pellet fuel, charcoal, biogas, silage, etc.
3. The baled straw is used as silage, which is beneficial to storage, transportation and saves a lot of storage space.
4. Effectively reduce the incineration of straw, which is conducive to reducing air pollution and being more environmentally friendly.
Maintenance of round bale machine
1. Wheel bearing.
The wheel bearings of the round bale machine should be disassembled, cleaned, reassembled annually and high-quality wheel grease should be used.
2. Picker drive belt
Daily use is to keep the belt clean, without butter or oil. If your round bale machine's belt becomes dry, hard, and starts to crack, you can replace it with a new one.
3. Plunger
Remove the plunger, carefully inspect the plunger, slide for wear and adjust. Replace if necessary.