Onion 2 row transplanter sold to Colombia
Onion 2-row transplanter can plant many different vegetable seedlings. And nowadays, people have widely used vegetable transplanters. Especially people who have large vegetable planting areas and greenhouses for seedlings. So, the emergence of transplanters has helped people to save a lot of time and energy and to improve the efficiency of transplanting.
And we produce various types of transplanters. Each type of transplanter has a different function to meet the needs of different customers. Until now, we have exported transplanters to Colombia, the USA, Finland, Morocco, Australia, etc.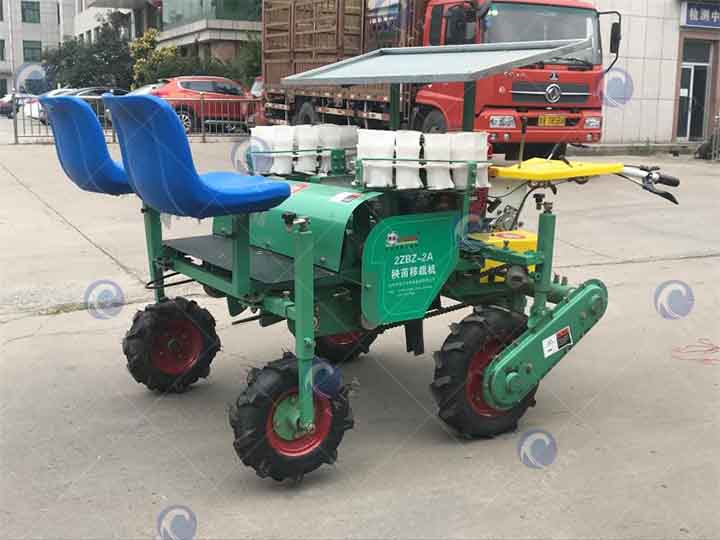 Onion transplanter in Colombia
The customer is from Colombia and is an onion grower. He has several greenhouses for growing onions. Before purchasing the transplanter, the customer had been hiring people to transplant onion seedlings. Manual transplanting can take a long time and it costs money to hire workers. So the customer wanted to buy a transplanter to save cost and increase efficiency. After browsing our website, he decided to talk to us further. And because the customer's required output was not very high, we recommended a two-row self-propelled transplanter. The customer was satisfied with the machine and decided to buy a self-propelled transplanter with a gasoline engine.
Application range of vegetable transplanter
The vegetable transplanter can transplant many seedlings. For example, onions, baby vegetables, broccoli, tomato seedlings, tomatoes, peppers, celery, onions, baby vegetables, broccoli, cabbage, carrots, coriander, hemp, tobacco, pumpkin, green beans, cabbage, fenugreek, et.
In addition, the tomato transplanter is not only suitable for planting on large, multi-row farms, but also for transplanting seedlings in hills and greenhouses.
How does the vegetable seedling transplanter work?
Technical parameters of the self-propelled transplanter
| | | |
| --- | --- | --- |
| Model | 2ZBZ-2 | 2ZBZ-4 |
| Plant spacing | 200-500mm | 200-500mm |
| Row spacing | 300-500mm | 150-300mm |
| Capacity | 1000-1400m²/h | 1400-2000m²/h |
| Row | 2 | 4 |
| Power | 4.05kw | 4.05kw |
Why choose our self-propelled onion transplanter?
1. Wide range of use. Our self-propelled onion transplanter can transplant many different kinds of seedlings.
2. Also, our transplanters are available in different models. And our traction transplanters can apply fertilizer, ridging, rototill, sprinkle, mulch, transplant, and spread drip irrigation tape. We can also customize the machine according to the customer's needs. And customers can also adjust the plant spacing according to their needs.
3. Multiple rows. Our machines are available in different numbers of rows to meet the needs of our customers.
4. Our transplanters have stable performance, easy operation, and maintenance, and high efficiency. And also it has relatively low energy consumption and long service life.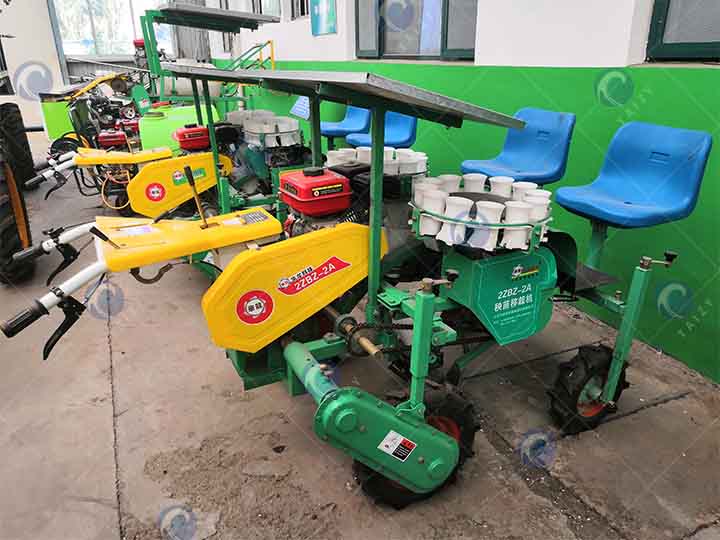 Why should we use the vegetable seedling transplanter?
1. The vegetable transplanter sows seedlings at the same depth. And the work content meets the standard requirements. So the quality of seedlings is high, and the survival rate is high.
2. The seedling transplanter does not hurt the seedlings while working. So using the machine can reduce the damage rate of seedlings and saves costs.
3. The onion transplanter has high working efficiency and saves time and effort.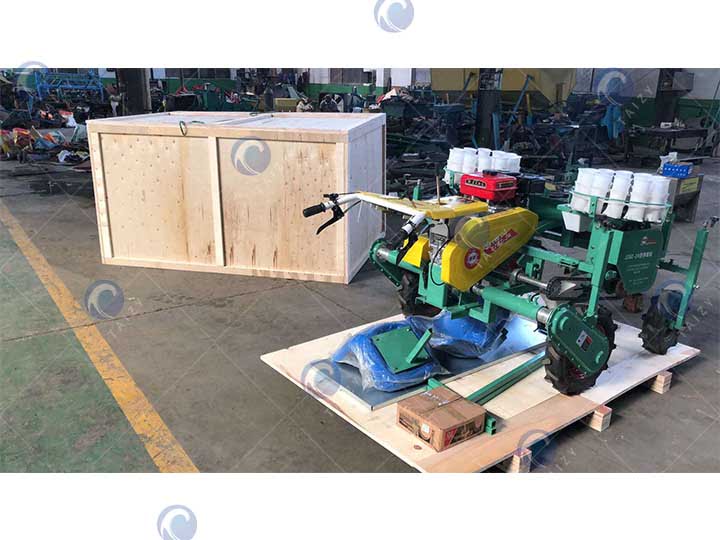 Maintenance of the trailing vegetable transplanter
1. Once the vegetables are planted, we need to store the transplanter. In order to ensure that the machine's performance is not damaged during storage. So, we need to pay attention to some of its storage requirements, including 3 aspects.
2. First, before storage, of the transplanter we should clean the internal and external dust, some dirt, seeds, and other debris. To prevent these substances from reacting with the surface of the machine during storage.
3. Second, we should pain the trailing vegetable transplanter's places where the paint is worn away to protect the storage period from corrosion.
4. Third, we should store the vegetable transplanter in a dry warehouse. The machine can also be left empty and covered with tarpaulin to avoid rain, moisture, and exposure to the sun.