Fodder cutting machine sold to Zambia
On the 6th, the customer paid and ordered one fodder cutting machine and one animal feed pellet machine. We are very happy to cooperate with Zambia customers! Now we are in the process of preparing the machines.
Why does the customer need fodder cutting machines?
Our customer has a farm and he raises a lot of sheep. Also, he grows a lot of silage and fodder crops. The manual way of cutting and crushing the grass is too inefficient. Therefore, there is a need for an efficient and reliable fodder cutting machine to handle large quantities of grass and make feed pellets.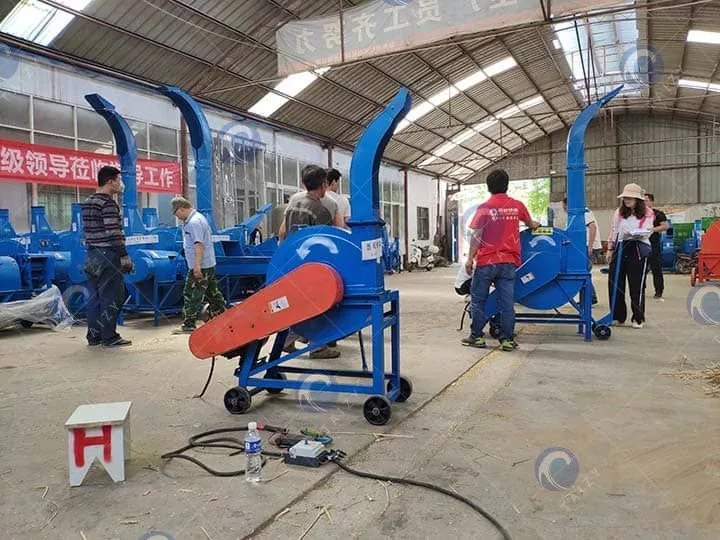 Technical parameters of the straw cutting machine
We have provided our customers with detailed parameters of our 9Z-1.5 grass chopper machine. This model has efficient grass-cutting and pulverizing functions. The machine is adapted with an 8-horsepower diesel engine, which is suitable for large-area grass operation. The size of the paddy straw cutting machine is 1 cubic meter after packing, which is convenient for carrying and storing.
Chaff Cutter
Model: 9Z-1.5
Power: 8HP diesel engine
Capacity:1.5t/h
Size:770*1010*1870mm
Weight:90kg
Animal Feed Pellet Machine
Model: SL-120
Capacity:80-100kg/h
Main power:170F gasoline engine
Size:850*350*520mm
Weight:75kg
straw cutting machine parameter
Why do customers choose our grass chopper machine?
Positive service consciousness. After receiving the inquiry from the customer, we contacted the customer immediately and provided detailed pictures and parameters of the fodder-cutting machine.
Customized power of fodder cutting machine. This model of guillotine shearer was originally equipped with a gasoline engine, but the customer needed a diesel engine. In order to meet the customer's requirements, the engine was changed from a gasoline engine to a diesel engine.
Help the customer to check the freight cost. We also provide complete freight details, including wooden crate packing and inland freight, to ensure safe transportation and smooth delivery of the grass chopper machine.