Twin row planter sold to Zambia
Congratulations! Our customer purchased a walking tractor and a twin row planter from us. The walk-behind tractor can drive the twin row corn planter together.
The reason why the customer bought the twin row planter
The customer has a field in Zambia and had been sowing maize manually. But sowing by hand was time and energy-consuming. And the customer wanted to use the 2 row corn planter to make a profit by sowing for others. So the customer was looking for a machine that could sow maize.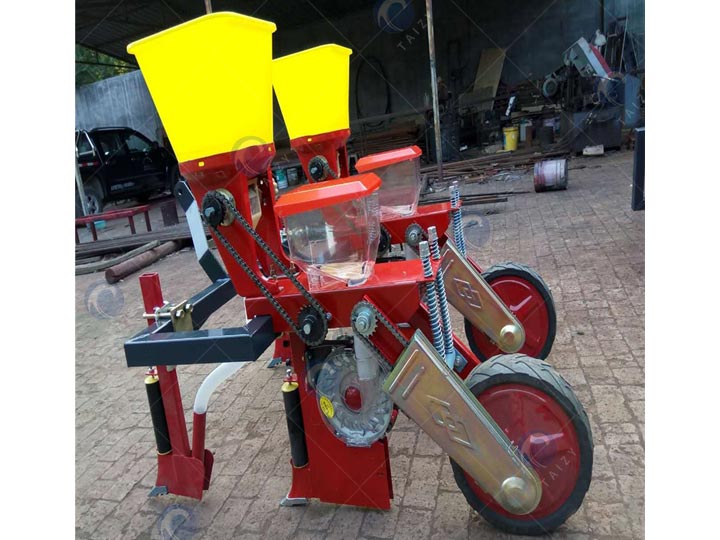 The process of purchasing a sweet corn planter
The customer contacted us through our agricultural machinery website. We communicate with the customer via WhatsApp about the twin row planter. We first introduce to the customer what models of corn seeders are available. Then we send pictures and videos of the 2 row corn planter. The customer said he needed a corn planter with small output, a two row one would be fine. So we sent the parameters of the twin row corn planter to the customer.
Since the customer did not have a tractor, we equipped the customer with a walk-behind tractor that matched the corn planter. Finally, we confirmed the destination port to the customer. After receiving the payment from the customer, we packed the machine in wooden boxes and arranged transportation.
What are the services of Shuliy?
Provide comprehensive service. We will provide various information about the machine during the process of communication with the customer. We also provide customers with suitable suggestions to purchase the machine.
High-quality machines. Since our establishment, we have been committed to producing high-quality agricultural machines, which are sold to many countries and have received high praise from customers.
One year after-sales service. Within one year of using the twin row planter, we will help to solve the problems that customers encounter with the machine.
Wooden box packing and transportation. We will pack the corn planter with a fumigation-free wooden box to ensure the machine is free from bumps and moisture.