Screw oil press machine丨hydraulic oil press machine for peanut
Now more and more people use small and medium-sized screw oil presses for oil extraction. Because the oil from these oil presses is green, fresh, and healthy. And it is very suitable for families or medium and small oil mills. There are various types of oil presses on the market today, which can meet the needs of most people. Also, the machine has a simple structure and is easy to operate.
Brief introduction of screw oil press machine
At present, we have researched and produced a total of four types of oil press machines. And each machine has a different model, which can meet a variety of different needs. These four types of oil presses include hydraulic presses, automatic screw oil press machines, and semi-automatic oil expellers. And these four oil presses can process common materials, such as peanut, sesame, soybean, rapeseed, sesame, sunflower seed, pepper seed, walnut kernel, etc. Including the oil that people often eat in daily life. Next, I will introduce each oil press. Also, we have peanut shellers and multifunctional threshers. These machines can help get kernels of the materials used for oil extraction.
Type1: hydraulic oil press machine
The hydraulic oil press machine uses liquid as the medium for pressure transmission to generate working pressure, so that the oil is squeezed in the cake ring. In order to adapt to different capacity needs. We have four models. They are different in output. Usually, the hottest sale models are 6YZ-180, 6YZ-230, 6YZ-260. And the power is motor.
Also, in order to ensure that the material can be fully squeezed, we should put a separator in the process of placing the material. So that the final oil processed by this oil press machine has fewer impurities, good oil quality, and high cake value.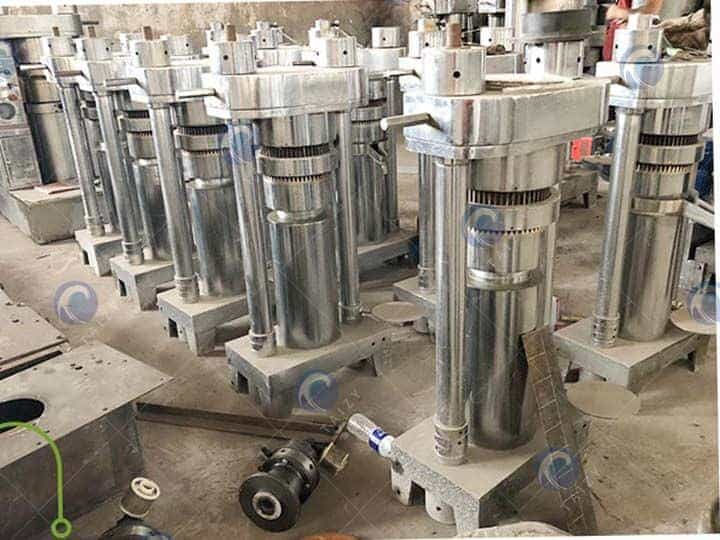 Structure of sesame oil press machine
This sesame oil press machine mainly includes an upper top plate, distribution box, pressure gauge, base, reinforcement ring, material barrel, oil receiving plate, oil cylinder, and plunger. The oil press machine has a compact structure, beautiful appearance, and small footprint.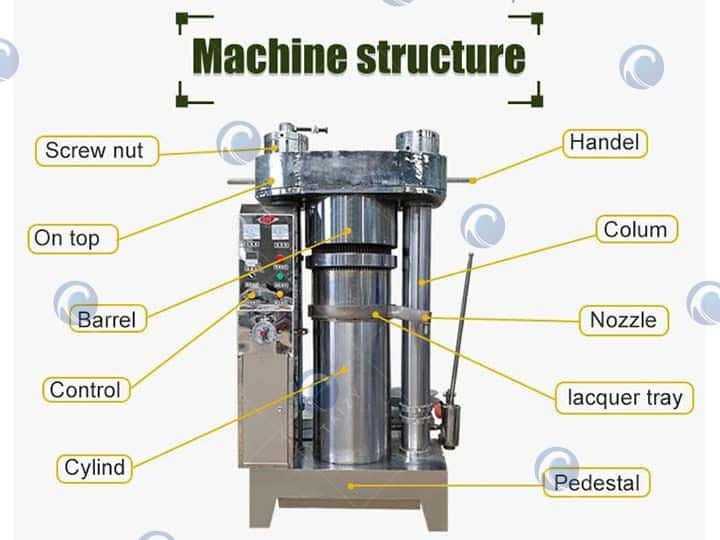 Automatic hydraulic oil press machine's working flow
Firstly, preheat before each oil extraction. Preheating temperature: 70-80 degrees in summer and autumn. Winter and spring are 80-100 degrees.
Secondly, run 1-2 times before each oil extraction. 5-10 minutes each time by air to make the hydraulic oil thin and easy to operate.
Thirdly, put the fried oil into the press chamber.
And when the oil is slightly lower than the upper end face, put on the separator.
The host of the machine is not allowed to leave people during the boosting process.
Then no oil seeps out from the oil joint of the pressing chamber, it means that the oil has been squeezed out.
Finally, turn off the machine and take out the oil cake.
How does the automatic sesame oil press machine work?
Detailed information of hydraulic oil presser
| | | | | |
| --- | --- | --- | --- | --- |
| Model | 6YZ-180 | 6YZ-230 | 6YZ-260 | 6YZ-320 |
| Size(mm) | 920*480*1190 | 1065*540*1550 | 900*1000*1560 | 980*1050*1680 |
| Weight(kg) | 450 | 880 | 1250 | 1680 |
| Kg pressure(kn) | 1600 | 2200 | 2600 | 3000 |
| Max working pressure | 55Mpa | 55Mpa | 55Mpa | 55Mpa |
| Electric heating power | 1 | 1 | 1.2 | 2 |
| Weight of sesame seeds(each time) | 2-4 | 5 -8 | 6-10 | 7-18 |
| Power(kw) | 3(220v) | 1.5 | 1.5 | 2.2 |
Detailed information of hydraulic oil presser
What are the machines that can work with the home hydraulic oil press?
There are a sesame screening machine, sesame roasting machine, centrifugal oil filtering machine, almond, peach nut cracker machine, an elevator, etc. And these machines can form a complete production line. You can achieve more efficient and convenient work. So, you can choose the right machine according to your needs.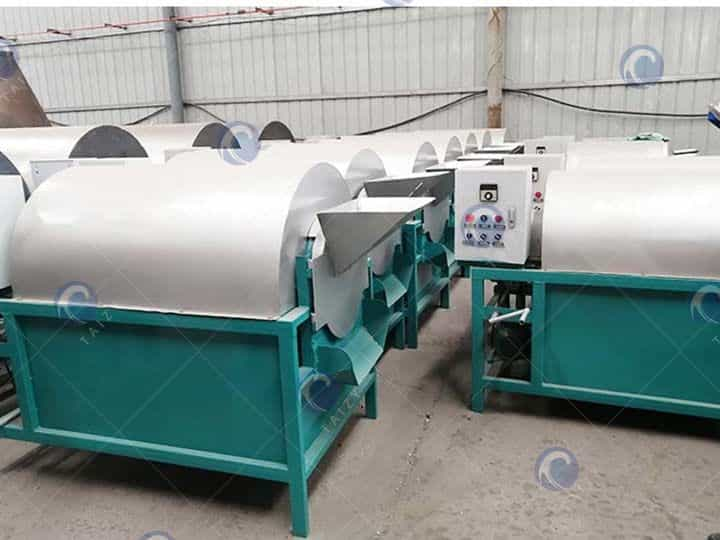 The outstanding features of professional hydraulic oil expeller
High efficiency, environmental protection, energy saving and high added value of products.
No noise, physical pressing does not require heating, and no chemicals are added.
Easy to operate, no fragile parts, long service life.
The biggest advantage of the hydraulic oil press is the high pressure of the equipment.
Type2: automatic screw oil press machine
An automatic screw oil press machine can press hot materials. There are a total of five models of the machine according to the diameter of the machine screw. They are 6YL-60, 6YL-70, 6YL-80, 6YL-100, 6YL-125. And hot pressing means that the material is heated before putting it into the automatic screw oil press machine. Also, the hot-pressed materials will be more fragrant and the color will be heavier. The power of the machine is the motor.
The extrusion degree of the material by the screw can be adjusted by the handle in front of the hopper. And the residue of the material will be discharged at the end of the screw. Under normal circumstances, oil presses need to be equipped with oil filter barrels. And there is a layer of oil filter paper on the top of the barrel, which can filter impurities. The oil filter barrel adopts the physical method of vacuum oil filtering, which will draw out the air in the barrel. So, the outside air will press the oil into the barrel.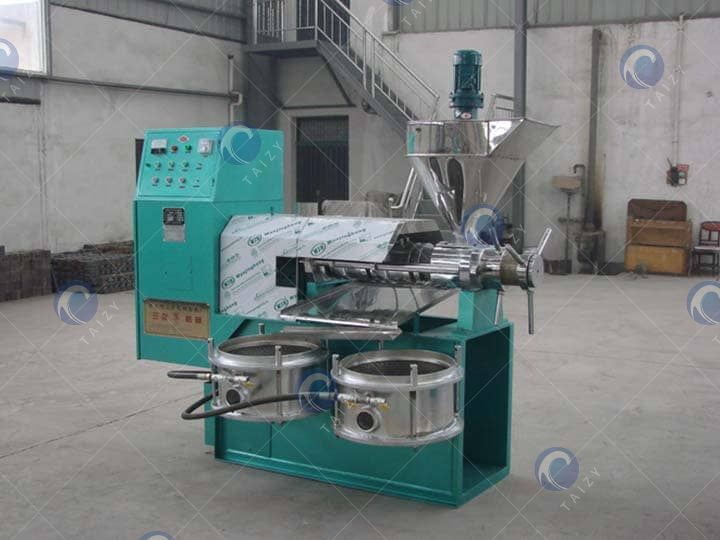 How does a commercial screw oil press machine work?
Automatic screw oil press machine's parameter
| | | | | | |
| --- | --- | --- | --- | --- | --- |
| Model | 6YL-60 | 6YL-70 | 6YL-80 | 6YL-100 | 6YL-125 |
| Screw diameter (mm) | Φ55 | Φ65 | Φ80 | Φ100 | Φ125 |
| Screw rotating speed(r/min) | 64 | 38 | 35 | 37 | 34 |
| Main power(kW) | 2.2 | 3 | 4 | 7.5 | 15 |
| Vacuum pump power(kw) | 0.75 | 0.75 | 0.55 | 0.75 | 0.75 |
| Heating power (kw) | 0.9 | 1.8 | 2.2 | 3 | 3.75 |
| Capacity(kg/h) | 40-60 | 50-70 | 80-120 | 150-230 | 300-350 |
| Weight (kg) | 220 | 280 | 880 | 1100 | 1400 |
| Size (mm) | 1200*480*1100 | 1400*500*1200 | 1700*110*1600 | 1900*1200*1300 | 2600*1300*2300 |
Automatic screw oil press machine's parameter
Type3: screw oil press machine for peanut
The oil pressing part of this type of screw oil press machine for peanuts is the same as Type2. And the difference is that this type of machine is additionally equipped with a screw feeder. The screw feeder can circulate the material. Because the oil yield of cold pressing is low, the cake can be pressed several times more. And cold pressing can preserve the nutrients of the oil from being destroyed. The color of hot-pressed oil is darker, and the color of cold-pressed oil is light. The power of the screw oil press machine is motor.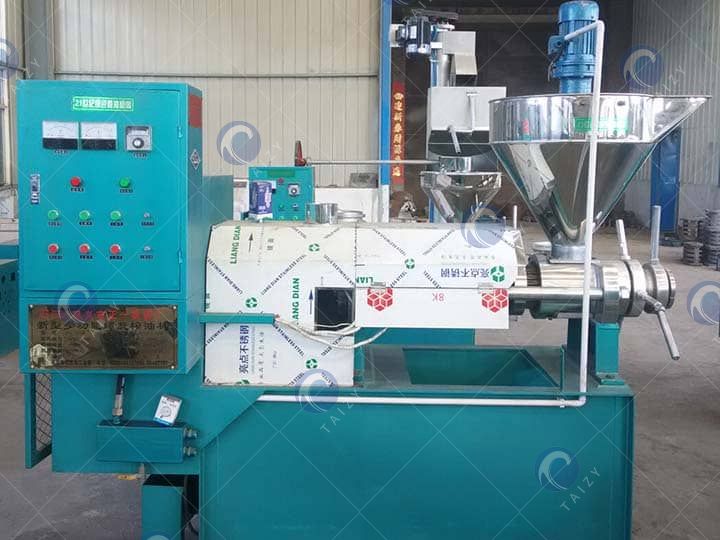 What is the specification of the oil press machine?
| | | |
| --- | --- | --- |
| Model | ZY-125 | ZY -150 |
| Motor | 15kw | 37kw |
| Vacuum pump motor | 1.5kw | 2.2kw |
| Capacity | 150-200kg/h | 300-350kg/h |
| Weight | 986kg | 2500kg |
| Size | 1900*1100*1500mm | 2100*1300*1700mm |
oil press machine's specification
Type4: semi-automatic screw oil press machine
The semi-automatic screw oil press machine has not any other accessories. It only has the part that can extract oil. And the structure and operation of the machine are also simpler. The power of this semi-automatic oil press can be an electric motor and a diesel engine. Customers can choose the power according to their own needs. So, machines of this model are also more affordable.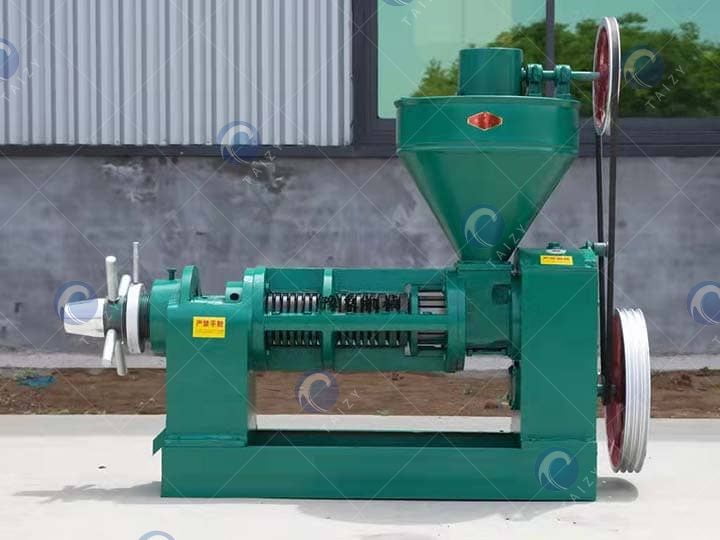 What is the structure of single screw oil press machine?
The core structure of Type2-Type 4 is similar, including material inlet, adjustment section, heating element, press part, oil out part, power(motor, diesel engine), etc.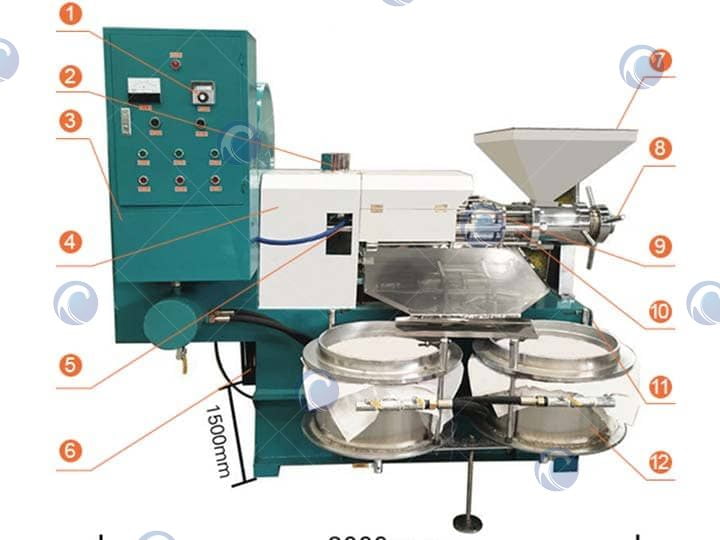 Two sets of oil expellers sold to Angola
Last week we have a customer from Angola. He wants to start an oil pressing project. And through Alibaba, he gets our contact information and sends an inquiry to us. This customer wants to press Soybean oil. Also, according to his need for output, we recommend ZY -150 model to him. Finally, he bought two sets of oil press machines.