Small corn peeling machine丨maize skin peeler
Small corn peeling machine is equipment that people use to dehull corn in daily life. The corn peeling machine is small in size, simple in structure, and easy to operate. It is a good helper for household corn peeling. Dehulling corn has now become the first step in the processing of corn. Because the peeled corn has a good taste and is easy to process.
So the peeled corn can be further processed into snacks, snacks, flour, etc. In addition, we can also process the corn without peel into feed, which is more nutritious and easy to absorb.
Introduction to small corn peeling machine
The small corn peeling machine we produce has a good peeling effect and high working efficiency. It grinds the corn into several large lobes while peeling, and the processed corn is smooth, free of black germ and bran. Also, the finished product after peeling is clean. And we can directly send it to the market for sale. As for the power, the corn peeling machine's power can be an electric motor or a diesel engine. So, it can meet the power requirements of people in different regions.
Generally, the machine is used in small food factories and households. As a manufacturer of agricultural machinery, we also produce corn harvesters, corn threshers, corn grits making machines, and cornflour machines. It can solve most of the needs of people to handle corn.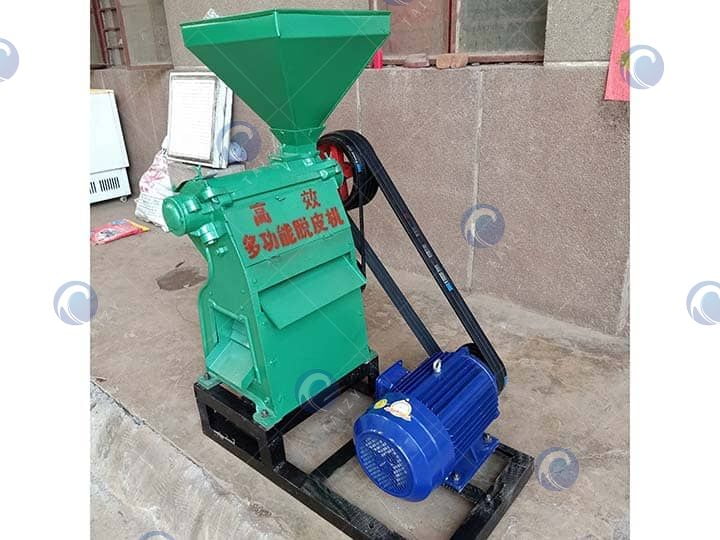 Structure of the maize skin peeler
The maize skin peeler mainly includes a feeding port, feeding speed adjustment knob, peeling knife, corn husk export, finished product export, etc. The overall structure of the small corn peeling machine is compact, occupies a small area, is strong and durable, and has a long service life.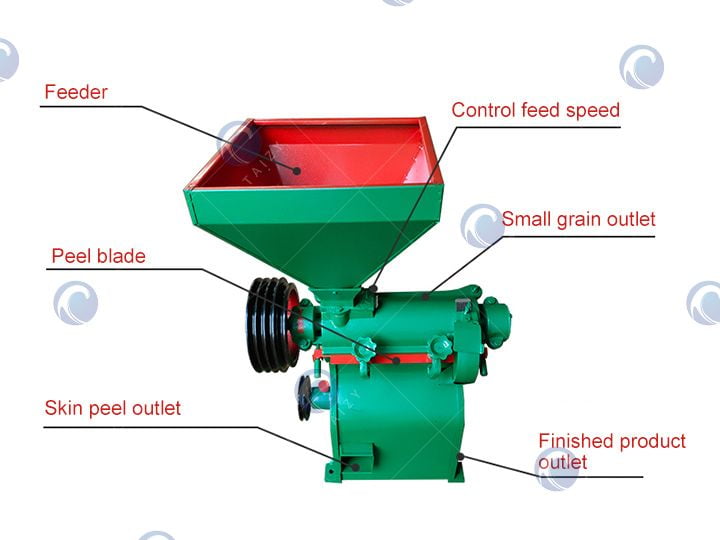 Parameters of corn peeling machine
| | |
| --- | --- |
| Name | Corn Peeler Machine |
| Power | 5.5kw electric motor or 12hp diesel engine |
| Capacity | 300-500kg/h |
| Weight | 100kg |
| Size | 660*450*1020mm |
corn peeling machine's parameter
Why do we need to peel corn?
The main components of corn husk are fiber, starch, and protein, and its nutritional level is not high. What's more corn husks are hard and difficult to handle into a paste, which is time-consuming and labor-intensive for deep processing. Moreover, the taste of corn husks is very poor, which will affect the eating and taste of processed non-staple foods. Therefore, when processing corn flour, corn grits, and corn food, the manufacturer will peel off the corn skin before processing.
What are the benefits of dehulling corn?
1. By peeling the corn, the corn husk produced by the corn processing equipment is small, and the quality of the product can also be improved.
2. The embryo and endosperm of corn are wrapped by the skin. After peeling, it is easy to separate, which can improve the efficiency of degermination, which is conducive to further fine processing.
3. After peeling, it can improve the edible quality of various foods produced by corn.
4. The coat of corn is likely to contain harmful substances, which can be removed by molting and improve the purity of the product.
Small corn peeling machine sold to South Africa
Last week we ship the 10 sets of small corn peeling machines to South Africa. We contact customers through their messages on the website. Through communication, we learned that the customer wanted to build a small corn peeling plant. Since it is just starting out, the customer wants to buy several small corn peeling machines first. So we recommend this machine to our customers. The final customer decides to place an order for ten sets. The following are the packaging and delivery pictures of the machine.