Multifunctional threshing machine for Burkina Faso
A multifunctional threshing machine can thresh a wide range of grains. One machine is multi-purpose, which facilitates the threshing work more. And our corn threshing machines are available with single and double air ducts. The double air ducts are cleaner to remove the impurities.
Regarding the power, the thresher can work with a diesel engine, electric motor, or gasoline engine. And customers can choose according to their needs. Besides, our multi-functional thresher has a double-layer screen, which is cleaner for debris removal.
MT-1200 multifunctional thresher

The customer is from Burkina Faso, we saw the RFQ posted by the customer on Alibaba that he needed a multifunctional thresher. So, our sales manager added the customer's WhatsApp. And also sent an email to the customer to contact him. After a period of communication, we learned that the customer needed a multifunctional thresher. What's more, he also need a walk-behind tractor, a corn planter, and a disc plow.
For the multifunctional thresher, the customer needs gasoline engine power. Later, according to the customer's grain production, we recommended the MT-1200 model. After a thorough introduction to the machine, the customer decided to purchase a multifunctional thresher.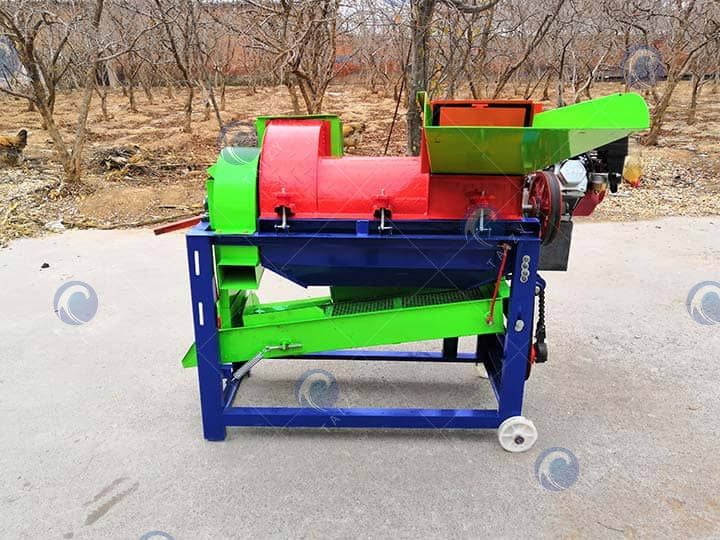 Application of the corn threshing machine

The multifunctional thresher can handle a wide range of grains, such as corn, sorghum, soybeans, millet, etc. When threshing different grains, we should change different screens. And except for threshing corn, threshing other grains requires the addition of rolls.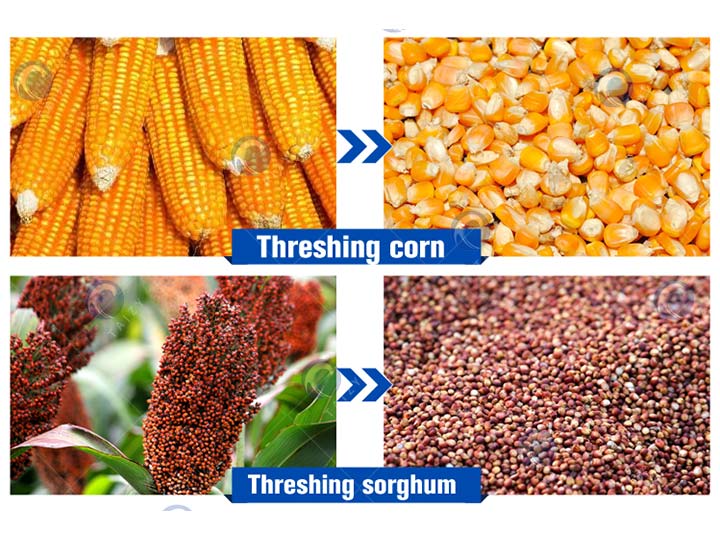 Structure of automatic maize sheller

The multifunctional threshing machine mainly includes a feeding inlet, threshing device, induced air blower, impurities discharge, light impurities outlet, grain outlet, etc.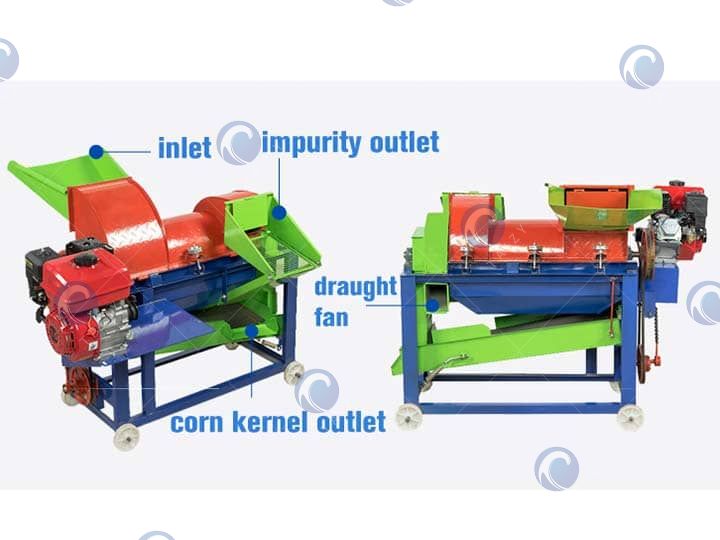 Parameters of the grain thresher

Besides MT-1200 model multifunctional thresher, we also have MT-860 modelmultifunctional thresher. And they are different mainly in output and size.
| | | |
| --- | --- | --- |
| Model | MT-860 | MT-1200 |
| Capacity | 1.5-2T/H | 3t /h |
| Size | 1150*860*1160mm | 2100*1700*1400mm |
| Threshing Rate | 98% | 98% |
| Wheel | Four | Six |
| Weight | 112kg | 200kg |
| Power | gasoline engine | 10-12HP diesel engine |
Parameters of the grain thresher
FAQ
How to take off different crops?
Open the cover and change the net. Then remove the four internal shafts when stripping corn
What should I do if I don't know how to use it?
Provide a video of the process of installing, operating, and changing the net of the machine
Easy to move?
Wheels + push handle, easy to move
What crops can be used?
Corn, wheat, soybeans, sorghum, etc.
Packing and shipping of the multifunctional thresher

In order to avoid the machine from collisions and from moisture and other problems. We will pack each machine with wooden box, below is the packing and shipping picture of the machine.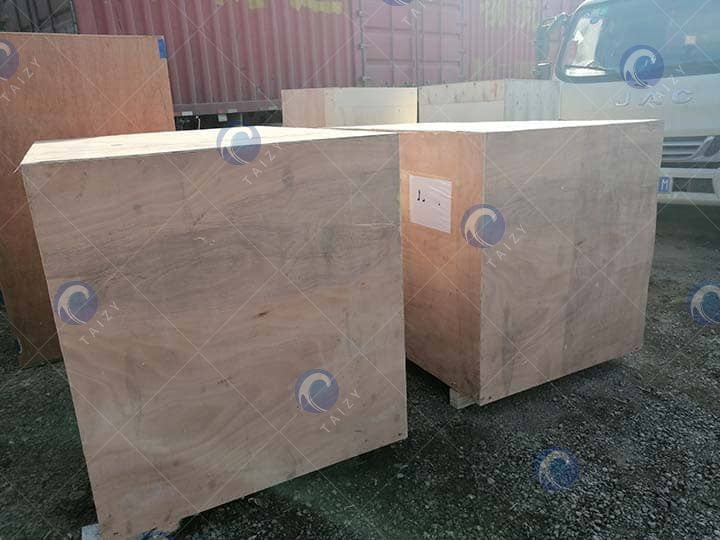 Multifunctional threshing machine matters need attention
Reading usage instructions carefully before using the machine, And learning the machine structure, property, installation, usage, and maintenance.
Don't disassemble any protection part of the machine. Before starting, please confirm all the parts are fixed well.
The spindle rotating direction must be the same as designated.
Confirm machine and person safe, make machine run in the test for 2-3 minutes, then feed materials in.
Metal, stone, or other something hard are forbidden to mix into materials.
When feeding material evenly, too much may cause an overloading halt, too less will influence working efficiency.
After working, make the machine run blank to discharge all materials, then cut off power.