Combine rice & wheat harvester machine
The combine rice & wheat harvester machine is an agricultural machine specifically designed for harvesting rice and wheat crops. Its primary functions include cutting rice plants with blades or cutting devices, equipped with a threshing mechanism to separate rice grains from the husks, and employing a conveying system to transport harvested rice panicles and grains to collection bins or storage containers.
Modern combined rice & wheat harvesters feature advanced automation control systems that can adjust blade height, manage the threshing process, enhance efficiency, and accommodate the harvesting requirements of different rice varieties.
The machine is designed to increase harvesting efficiency, reduce labor costs, and adapt to diverse terrains, providing a highly efficient and reliable solution for modern rice agriculture.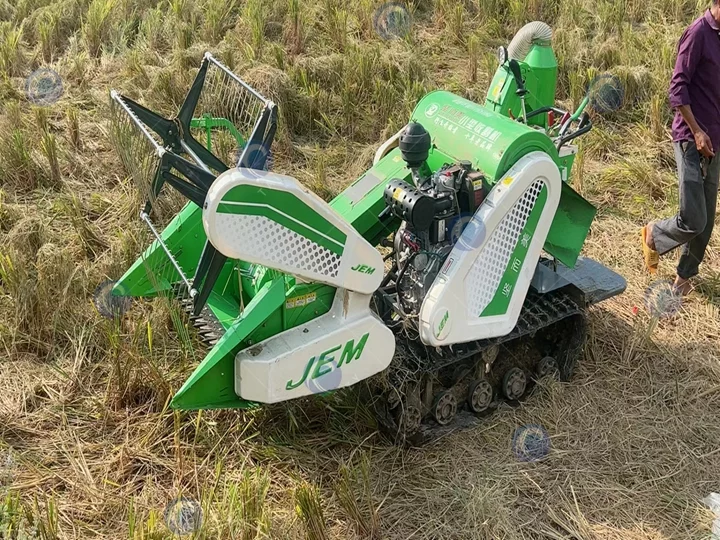 Working process of rice combine harvester
The working process of a rice combine harvester involves several stages to efficiently harvest and process rice crops. Here is a general overview of the typical working process:
1. Heading into the Field:
The rice combine harvester is driven to the rice field, where it is prepared for operation. The machine is positioned and adjusted based on the type and height of the rice crop.
2. Cutting and Gathering:
The cutting mechanism of the harvester is engaged, and it moves through the rice field, cutting the mature rice plants. The cut plants, known as panicles, are then gathered and fed into the harvester for further processing.
3. Threshing:
Once the panicles are collected, the threshing mechanism of the combine harvester separates the rice grains from the rest of the plant. This process is crucial for extracting the valuable rice grains from the husks.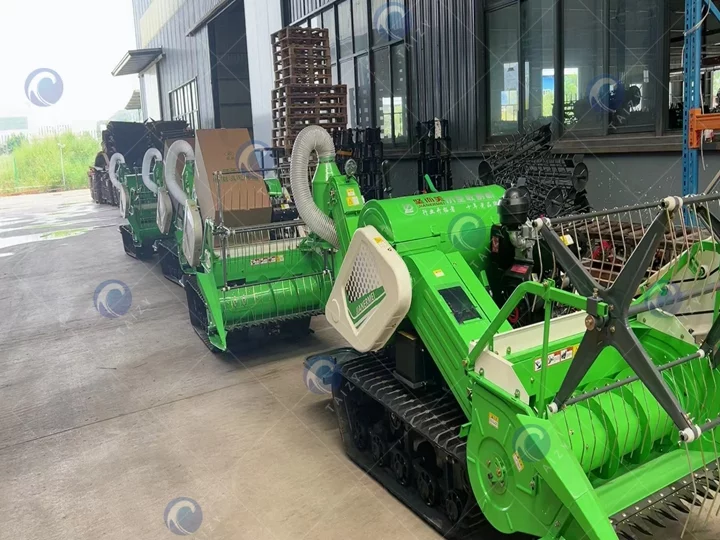 4. Separation:
After threshing, a separation system is employed to separate the rice grains from the remaining material, such as straw and husks. This ensures that only the clean rice grains are collected for further processing.
5. Cleaning:
The harvested rice undergoes a cleaning process to remove any remaining impurities, such as dust, chaff, or small debris.
6. Transportation:
The cleaned rice grains are then transported within the harvester to a storage bin or container.
Different types of rice & wheat harvester machine
1. Flat crawler Rice Combine Harvester:
Features: The flat-track design results in a larger ground contact area, making it more suitable for rice fields with deeper mud, providing better buoyancy and stability.
Advantages: In muddy conditions, the flat crawler design allows for better weight distribution, reducing soil compression, and minimizing the impact of deep mud on the machine.
Applicable Scenarios: Ideal for areas with deeper mud in rice fields, offering a larger ground contact area to ensure stable operation in wet or muddy conditions.
Size(MM)
3100*1440*1630
Weight(KG)
570
Cutting width(MM)
1100
Min ground
clearance(MM)
190
Average ground
pressure(KPA)
10.9
Feeding
volume(KG/S)
1.05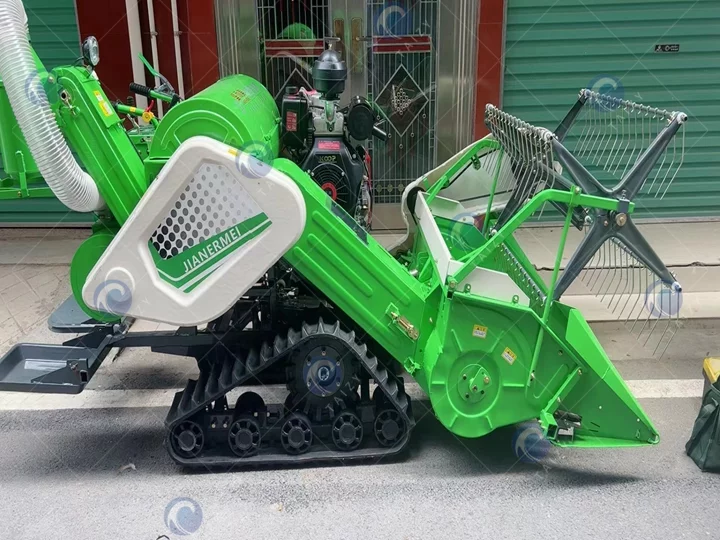 2. Triangle crawler Rice Combine Harvester:
Features: The triangle crawler design is suitable for dry fields and rice paddies with shallow mud, providing better maneuverability and adaptability.
Advantages: In areas with relatively shallow mud or dry conditions, the triangle crawler design offers excellent maneuverability, allowing the machine to navigate different terrains flexibly.
Applicable Scenarios: Suitable for rice fields with shallow mud and dry conditions, providing flexibility and maneuverability in various farming environments.
Size(MM)
3100*1440*1630
Weight(KG)
570
Cutting width(MM)
1100
Min ground
clearance(MM)
190
Average ground
pressure(KPA)
10.9
Feeding
volume(KG/S)
1.05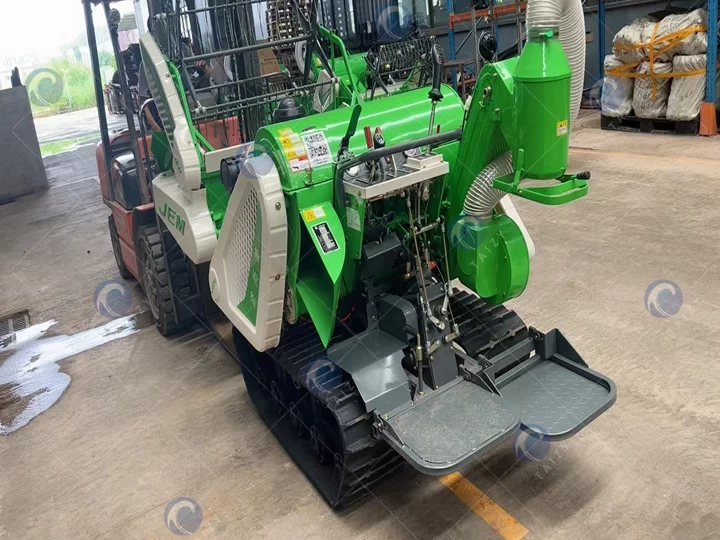 Key advantages of the combine rice & wheat harvester machine
Increased Efficiency:

The mechanized operation of the combine harvester significantly increases the efficiency of the rice harvesting process compared to manual methods, allowing for faster and more extensive harvesting.

Labor Savings:

Automating the harvesting process reduces the dependency on manual labor, saving time and labor costs. This is particularly important during the peak harvesting seasons when manual labor availability may be limited.

Higher Productivity:

By automating tasks such as cutting, threshing, and separating, the combine harvester enables higher productivity and output, allowing farmers to cover more land in a shorter time.

Reduced Crop Loss:

The design of the combine harvester includes efficient threshing and separation mechanisms, minimizing crop loss and ensuring a higher percentage of clean and intact grains.

Adaptability to Different Conditions:

Modern combine harvesters come with adjustable settings, making them adaptable to various rice varieties, field conditions, and terrains.

Improved Grain Quality:

The combine harvester's advanced threshing and separation systems contribute to improved grain quality by minimizing damage during the harvesting process.

Optimized Field Operations:

The combine harvester integrates multiple functions in a single machine, streamlining the entire harvesting process and reducing the need for multiple pieces of equipment.

Versatility:

Some models of combine harvesters are versatile and can be adapted for use in other crops beyond rice, providing farmers with flexibility in their agricultural practices.