Hand held corn planter丨small scale manual corn planter
With the development of agricultural machinery. There are many forms of corn planters today, the simplest of which is the hand-held corn planter, which is easy to operate, low in price, time-saving and labor-saving, and powerful in function. And has been welcomed by many countries. In addition to sowing corn, the machine can also sow wheat, soybean, sorghum, and other seeds. In addition to this, you can also fertilize. It can meet people's daily sowing needs and provide convenience to farmers.
What is hand held corn planter?
Our Taizy, as a manufacturer and supplier of agricultural machinery, has various forms of corn planters. These include walk-behind corn planters, which are available in three different models. Different models differ in function and appearance. This article mainly introduces three models of walk-behind corn planters. All three types of planters can sow different seeds and fertilizers. And they are small in size and easy to operate. Also, they can complete multiple actions at one time, such as ditching, sowing, and soil suppression. Some models of machines can also adjust the plant spacing, and customers can adjust them according to their own needs. Besides, we also have tractor-driven corn seeder and peanut planter.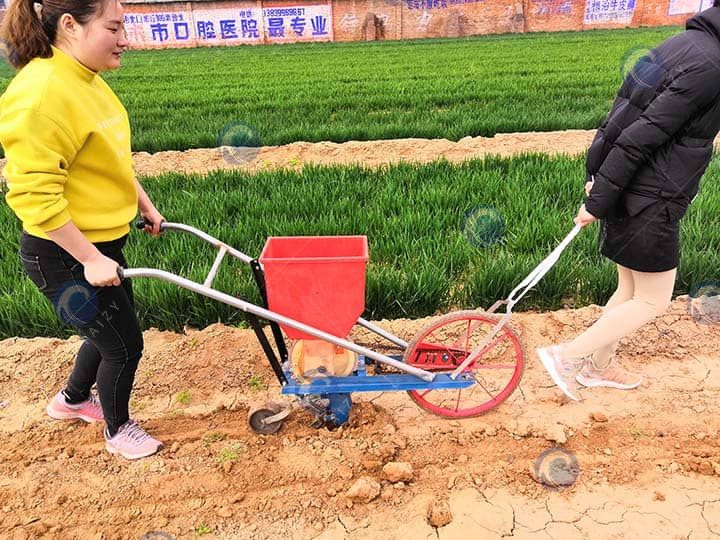 What seeds can the small scale corn planter sow?
The small-scale hand held corn planter can sow wheat, corn, peanuts, soybeans, red beans, millet, sorghum, rape, etc. So not limited to sowing a single seed, which embodies the versatility of the machine. These machines are suitable for all crops in dry fields.
Model 1: manual corn soybean planter
This type of hand held corn planter has a simple structure and complete functions. And 1 to 2 people can operate this corn seeder. So, it is more labor-saving for 2 people to operate, with one person pulling in the front and the other person pushing in the back. The machine can complete ditching, sow seeds while ditching, and then cover the soil to suppress the soil. And if the hand held corn planter is used to sow corn seeds, it is generally a litter of two seeds. And the number of seeds varies from seed to seed.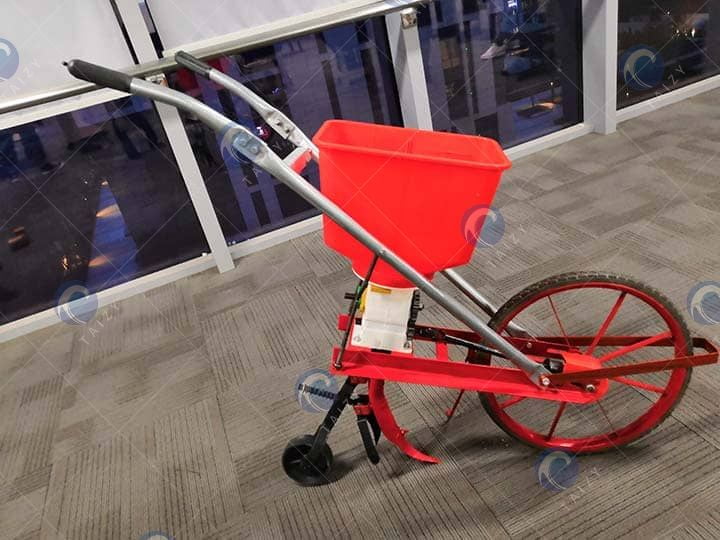 Structure of manual corn seeder
The hand held corn planter consists of seedbox, wheels, handle, opener, soil press wheel, and so on. The machine is light in weight, small in size, and occupies a small area.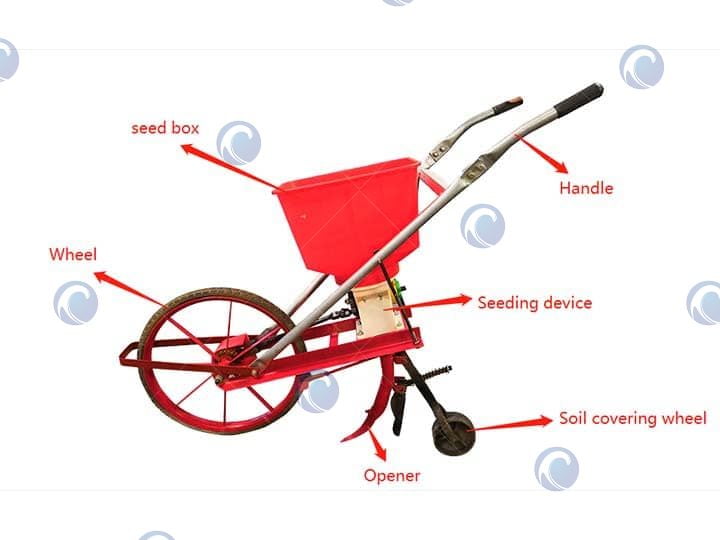 Model 2: hand held wheat corn planter
This hand held corn planter is more lightweight and the sowing section is like a roller. And this walk-behind corn planter can be operated by one person. No need to tow the machine. Also, the machine can adjust the plant spacing, and customers can adjust the plant spacing according to the needs of different seeds. If you need to change seeds for sowing, you will need to replace the seedbox inside the seed wheel. And we will provide customers with complete seedboxes. So, it can meet the needs of sowing most seeds. Customers can put sand or stones in the compaction wheel of the machine to compact the soil after sowing.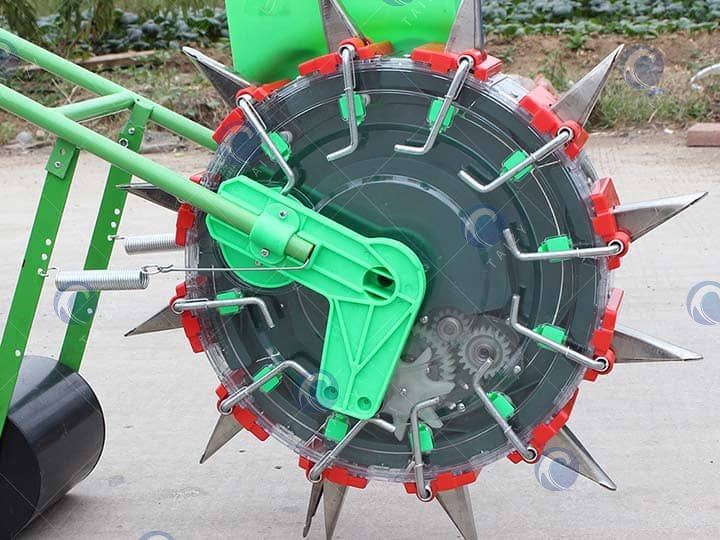 What is the structure of the small corn planter?
This small hand held corn planter mainly has a handle, planter, brush, duckbill, and soil-covered repression wheel.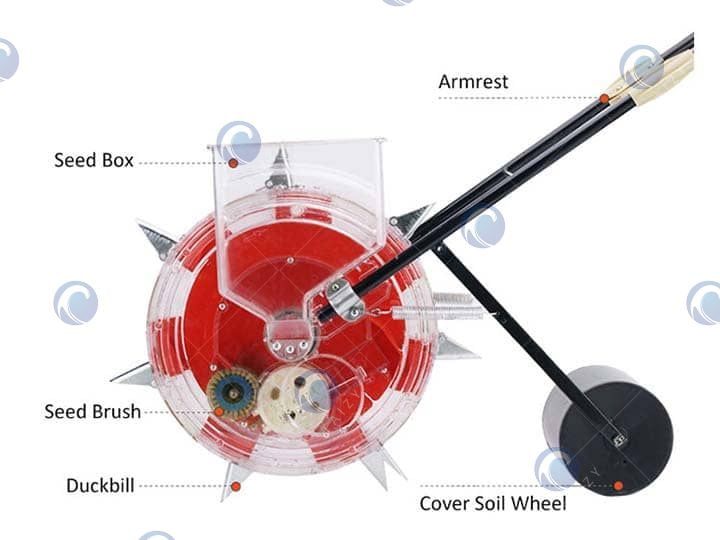 Model 3: Gasoline-powered hand seed planter
This hand held corn planter is powered by a gasoline engine. So the seeding will be more efficient. The machine can be operated by one person. Turn on the machine, the gasoline engine drives the front wheels to move forward, and then drives the trencher and the seeding part to work forward. And finally, the soil-covering wheel is used to cover the soil.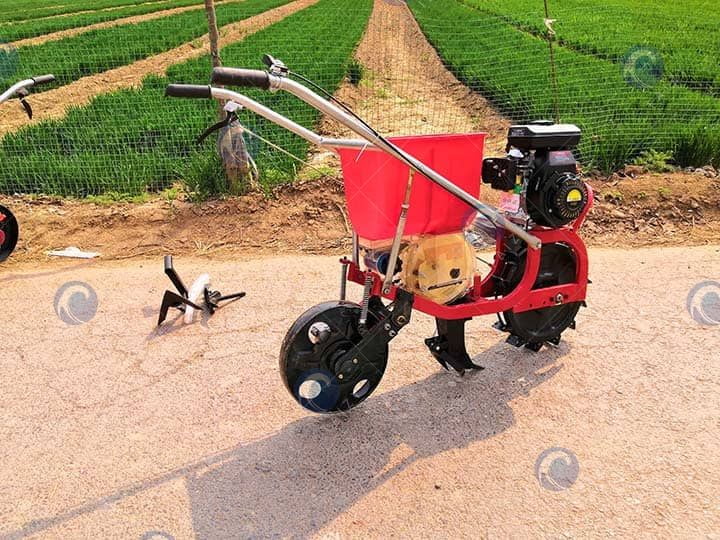 How about the structure of the hand-push corn planter?
The hand held corn planter has handrails, wheels, springs, seeding devices, ditcher, gasoline engines, soil-covering wheels, etc.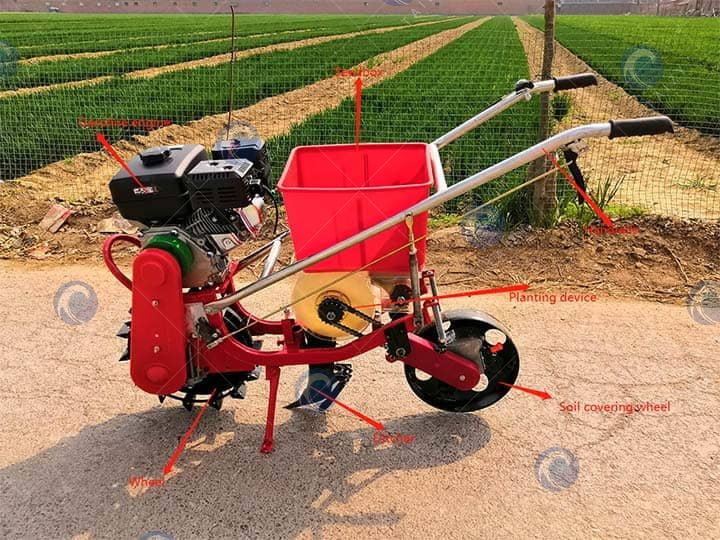 What are the advantages of small corn planters?
1. The quality of the hand held corn planter is good. All machine parts are made of high-quality parts, and the machine is light and durable.
2. Powerful function of the machine. In addition to sowing corn, walk-behind corn planters can sow many other seeds. Can also be used for fertilization. But it should be noted that fertilizer and seeds cannot be sown together.
3. Compared with manual seeding, the seeding efficiency of using this small corn planter will be much improved. And these single-row walks behind corn planters are easy to operate and can be learned in minutes.
4. The plant spacing and sowing depth of these handheld corn planters can be adjusted. So these machine is more flexible. It can meet the needs of people to sow a variety of seeds. And customers can adjust according to their own situation.
Why choose Taizy's walk-behind corn planter?
1. We will recommend suitable machines according to the specific needs of customers. Or we will can also customize the machine to meet the special needs of customers.
2. Comprehensive service. Before the sale, we will fully communicate with customers to understand their needs and recommend suitable machines to customers. We support a variety of payment methods during the sale. After receiving the deposit, we will strictly control the entire production process of the machine. And after the sale, we will carefully package the machine to arrange transportation. If the customer has any problem in the process of using the machine, we will provide the customer with online or offline services.
3. All the machines are made of high-quality materials, and the machines are durable. We have more than 10 years of export experience. It has been exported to many countries, and now it has long-term cooperation with many countries.
Small sweet corn planter sold to Ghana
Last week our client from Ghana got in touch with our contact details from the website. After communication, we learned that the customer wanted 30 hand held corn planters for sale. After introducing the machine to the customer, our customer needs ten machines of each model. The following is the packaging and delivery diagram of the machine.